Skip to Content
The Advantage of Selling Gold & Silver to Rocky's Pawn Shop
Selling your gold and silver can help you in a quick pinch and Rocky's Pawn Shop wants to be the one to buy it from you. We have received the golden award for "Best of the Valley" when it comes to buying gold from our residents. Rocky's will accept most forms of gold, but please feel free to reach out before coming into the store. We will even take your damaged silver for top dollar. We derive the value of silver at fair rates and always take the current spot price of silver into account when purchasing or loaning.
When you come to Rocky's Pawn Shop to sell your gold and silver you can guarantee that you will get competitive prices and cash on the spot. Our experts will more accurately assess the worth of your gold and silver and get you the most amount of money. You can compare our quotes with other shops in the area. We've been in the business for the past 20 years and have much experience in getting you the most possible money whenever you decide to sell your gold and silver at Rocky's Pawn Shop. We will also get you cash in minutes without you having to fill out lengthy application forms.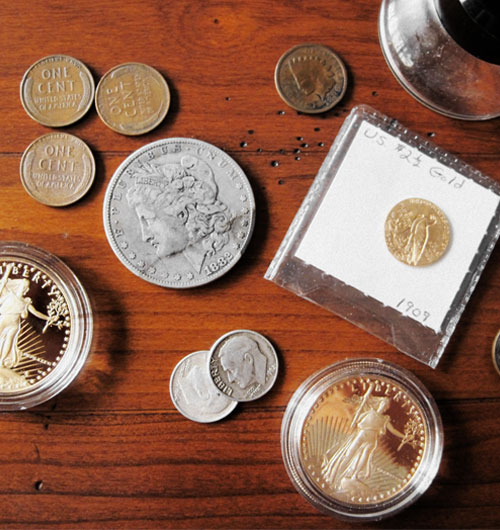 Questions About Selling Your Gold & Silver
You may have many questions before you come into one of our many convenient locations through the Palm Springs area. Let us help answer some of those so that you can be fully prepared when coming to sell your gold and silver to Rocky's Pawn Shop.
Is the Process Easy?
You bet! Our customers can pawn items at a low interest rate of 1% for up to 30 days. The loan amount when pawning silver can be up to 80% of the current precious metal price.
Choose between selling and pawning your gold items. It's up to you. Should you pawn gold, you have up to 30 days to repay at a low 1% interest rate. Loan amounts are provided on a case by case basis up to 80% of the current spot price.
How Do You Test for Value?
To be sure, simply come in and we'll do a true gold test. Note that gold may appear in a number of hues. Don't second-guess. Speak to us today.
Our professional staff examines the purity of gold using several methods such as the magnet test, electronically, and with gold testing acid. In order to provide the best quote, Rocky's uses current precious metal spot prices.
Silver bullion in other currencies like those from Mexico or Canada, for instance, are welcomed at Rocky's. We have an in-house estimator to calculate the accurate value of silver. Rocky's has a well-trained team that understands the facts and history of silver items, so you're never nickel-and-dimed for precious silver.
What Do I Need to Sell My Gold and Silver?
To sell or pawn gold items, the only added documentation needed is an official I.D.
Perhaps you own gold or silver that was gifted or handed down as an heirloom piece. Whatever the case may be, Rocky's helps you ditch the rock-and-a-hard-place mentality by serving up cash for your items. Call or come into the shop today and let us evaluate your gold and silver and get you cash today!
Stop in Today to Get a Consultation on Your Items to Sell or Pawn.